The Kids Lit Quiz and the quiz master Wayne Mills returned to Liberton High in November 2014.
The winners of the 2014 Central Scotland Heat were St Thomas of Aquins B team who beat George Heriots B into second place and George Heriots A team were in third place with only a point separating the teams. Very exciting stuff!
. The banner competition was won by Balwearie High School
Three authors made up the author team, myself, Keith Charters and Matt Cartney.
Unfortunately Keith Charters had to dash away early but we enlisted some help from a member of the audience and managed to challenge the team of teachers, who just beat our score by a whisker!
A great day was had by all thanks to the hard work of Mrs Babbs and her team of volunteers.
———————————————————–
In February this year (2014) I went back to visit Australia and New Zealand. The last time I was in these two wonderful countries it was 2011 when I was invited to speak to writers and visit some schools.  In Sydney I had been asked to speak to the lovely writers from SCWBI, which is a world-wide association of children's writers and
illustrators. I also went on a book tour of New Zealand schools in North Island, with the New Zealand Book Council.  This is Rangikura School near Wellington.
    You can see some pictures and read about those visits in my blog Bookwords http://writingthebookwords.blogspot.co.uk/2011/03/4-wellington-visitng-schools-and.html This year I was very much on holiday visiting friends and enjoying the beautiful scenery and I even watch sheep shearing in a New Zealand farm.
When I was in Australia I visited Adelaide and I also met up with someone from Scotland. A writer, Rita Bradd, from Dunbar who had travelled with the cutter, the City of Adelaide, which was previously called the Carrick and was berthed for many years in Glasgow.   This very old wooden ship was taken all the way to the other side of the world, from Scotland to Rotterdam, over to the united States and then to Adelaide, on a large container ship and Rida Bradd had travelled with it on the container ship because she was researching the history.  When it arrived in Adelaide they had to lift it carefully off the ship and into the water at the Port.  It will have to be restored and this will take some time but there was great excitement at its return.
While I was in New Zealand I met up with Wayne Mills, the quiz master and original creator of the Kids Lit Quiz.  Wayne lives in New Zealand, and when he is not running the quiz and travelling all over the world for the many international heats, he works as a lecturer in the University in Auckland.  It was great to catch up with him and it won't be long before he is back in Scotland for this year's heat at Liberton High.

——–
I've had a busy couple of months since August this year and I thought I would share some of what I have been doing and show you a few of the pictures I have taken as I went out and about. It started at the beginning of August with the Fringe By The Sea festival in North Berwick on a beautifully sunny day. I was talking about my teen books in the large white tent you can just see in the distance. I took this as I walked along the shore in the sunshine just before I was due to start.
The following day I was off to the Edinburgh International Book Festival in Charlotte Square.  I met a few keen readers from Liberton High on one of the days I was there.
I also got the chance to catch up with some writer friends, such as fellow Patron of Reading Nicola Morgan,   also Cat Clarke, Liz Kessler and Joanna Nadin  
Outside the author's Yurt with Liz Kessler and Joanna Nadin
  The authors who are invited to speak at the Edinburgh Book Festival have a fabulous Mongolian yurt to rest and relax in. We can also sit outside it if the weather is good, which it was!     There is also a place to prepare before we go to meet our audience.
You meet lots of people in the yurt, including some who are in costume and it can be a lot of fun! This year in August I spent a week up north near Inverness in a beautiful place called Moniack Mhor where the Arvon Foundation run courses for people who want to write.  They are mostly courses for adults but they also have some for schools or younger groups.I was working with fellow tutor and writer Teresa Flavin and we had a midweek visit from writer Bali Rai.
Here is a picture of our final night when the students were reading from their own writing. It was wonderful to hear some of the great things they had produced during the week.  We had a wide range of people from all over, and from all walks of life, including quite a few teachers. Some had come from London and the south of England, one from just down the road and another from Switzerland, one from Belgium and others from all around Scotland.
This year I was also asked to appear at Scotland's exciting crime festival Bloody Scotland along with Sophie MacKenzie. This is only the second year of the festival which takes place in Stirling, and once again it was incredibly successful and it had a wonderful array of top crime writers.
at the end of September I was off up north once more to the first Kingussie Book Festival where I was speaking about my younger, Hamish McHaggis books and also running a creative writing workshop.  The shop had a lovely display of my books in the window!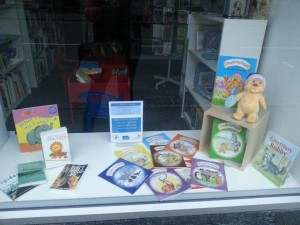 Sometimes I am asked to write different kinds of books and this year I have been working with RoSPA the Royal Society for the Prevention of Accidents who wanted me to write some books for primary school children that will be part of the Go Safe Scotland resource for schools. I was invited to a primary school in Glasgow for the launch of the project and we watched a rather scary display by the fire service who showed us all, and the children from the school, how explosive and dangerous fire from a chip pan can be.
These are some of the things I get up to when I am not visiting schools or actually doing the part of my job I love best…writing! ************************************************************* Hello
I am Linda Strachan and I'm delighted to be the Patron of Reading for Liberton High School, Edinburgh.  Scotland. I'd like to thank your librarian Christine Babbs for all her enthusiasm and help in getting started and I am looking forward to getting to know you all.  Whether you are a school student, teacher, staff or parent, this blog is for you! I will be delighted to hear from you and (very soon) there will be an email address where you can write to me. Watch this space! I will be writing blogs about what I am currently working on, or what I am doing, places and festivals I visit as a writer, and what I am reading.  There will also be information about when I am coming into the school so that you can drop by and say hello! You can find out more about me and my books on the 'Linda's Website' page Enjoy the blog, wander around, and I hope you will also contribute with comments on blogs, or by adding to the review or Raveabout Booklist pages. I hope to meet you soon. Linda